Sukken farm is the oldest farm in Rødenes village. Sukken farm, first appeared in public papers in 1591, and later it was announced in a paper from the tax athorities that someone from Sukken owed the church a leather coat. The name Sukken stems from the waterfall between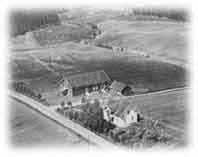 Bergerødegård and Sukken. Sukken means sound, sigh, gurgle.
Sukken Camping was started in 1978 by Rangvald and Margit Sukken who were running a farm on Sukken.
In 1990 their daughter Bjørg and her husband Lars Hansson took over Sukken farm, and the first huts were built by Lars that year. Today there are 14 huts, where tvelv have 4 beds, and two have 2 beds.
Some of the escape routes that were used during the 2. world war, are found in the area of Sukken Camping. Most of these escape routes are marked paths for hikers and campers. One of the paths start at Sukken Camping and is called Offerstensveien (the sacrifice stone road). It ends in Dalens customs (Sweden), just across the border. Sukken is sited in an area with many historical events that are well worth to experience.