Good bicycleroads and nice walking paths, possibility for canooing,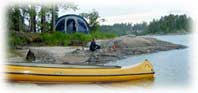 picking berries, border-shopping and more. Beach: nearest beach 4km. Fireplace: for grilling campfire etc.

Risen Grotte: is situated in beautiful environments in Marker County in Østfold, far into the "natures wildness" and is built up of rocks and logs. Parties are welcome for a unique experience! There is a great activityround layed around a fishingwater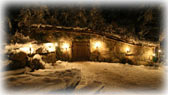 near by. We offer activities like axe throwing, lasso throwing on a elks head, and much more fun. Cano rentals for both parties and single persons. www.risengrotte.no

Fishing: Fresh water fishing: Most common fish are pike, perch and trout.

Trout is added to many lakes around. Enjoy quiet peaceful fishing in a small forest lake, or It is only a short distance to a larger lake, Haldenvassdraget. Fishing license can be bought at the camping.
Golf: there are 3 golfcourses in a
radius of 30 km. from Sukken Camping.